Why yes, I am, in fact, jumping on this shiny new bandwagon. I love learning random, useless new facts about people and things! Seriously, I can't remember dates or names for history tests, but I can kick ass in trivial pursuit. My brain apparently only retains the most useless of useless facts. So, let's play!
A.
Age: 23
B
. Bed size: Queen
C.
Chore you hate: All of them? But mostly cleaning the tub and vacuuming. Vacuums scare me.
D
. Dogs: Of course! My three fluffs are my pride and joy!
Sophie, Spade, and Scout on our wedding day.
E
. Essential start to your day: I don't really have a routine, just as long as I wake up, we're good to go.
F
. Favorite color: I used to say pink, but judging by the amount of Tiffany Blue in our apartment, I'd have to say that has usurped pink.
G
. Gold or silver: Silver or white gold.
H
. Height: 5'7"
I
. Instruments you play: I sing constantly, if that counts. I'm not saying I do it well, but I still do it!
J
. Job title: Make up artist, kick-ass wife, and doggy mom.
Just doin' my job! (P.S. She's unfairly gorgeous and she has a
blog
!)
K
. Kids: Meh, I don't see babies in my future. Kids are just not for me.
L
. Live: Tampa, Florida
View of Tampa Bay.
M
. Mom's name: Dawn (Fun Fact: my dad's name is also Don!)
N
. Nicknames: My only nicknames have come from my parents. My mom calls me "Yummy" because she says my skin color looks like a ripe mango, and my dad calls me "Nu-Nu", no idea where that came from. Now that I'm an adult, everyone mostly just calls me Tiffany, or Tiff.
Yup, Don and Dawn.
O
. Overnight hospital stays: None, I think!
P.
Pet peeve: Oh god, I have a lot of pet peeves, but the worst is when people touch pregnant women's bellies without an invitation. It just makes my skin crawl. If I ever get pregnant, I shit you not, if some stranger walks up and touches my belly, I'm just going to look them right in the eye and squeeze their boobs. Pregnant or not, you just don't randomly touch people, it's an invasion of personal space. Trying to regain my composure now...
Q
. Quote from a movie: I recently watched Wuthering Heights and it had the most hauntingly beautiful quote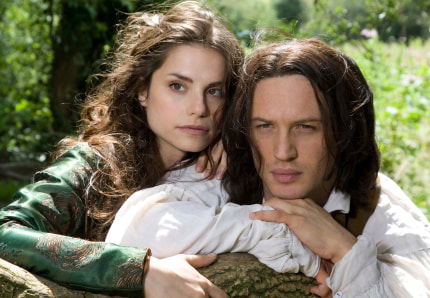 "Haunt me then. Be with me always. Take any form and drive me mad, but don't leave me in a place where I cannot find you. I cannot live without my life, I cannot live without my soul."
R
. Right or left handed: Right handed.
S
. Siblings: One older half brother, one older brother, one younger step-sister. I know, crazy.
T
. Time you wake up: Around 7:30.
U
. Underwear: I approve.
V
. Vegetables you dislike: Brocolli. It's just, so, so gross. *shudder*
Word.
W
. What makes you run late: I'm too anxious to be late. Lateness literally makes me nauseous.
X
. X-Rays you've had: Dental, pretty sure that's it!
Y
. Yummy food you make: My shepherd's pie is pretty awesome, and I make a great blackberry cobbler.
Z
. Zoo- favorite animal: I'd say my favorite is the polar bear. I used to
love
white tigers until I recently learned that they're severly inbred in order to preserve the white color. White tigers can't survive in the wild, therefore, breeders must use a limited number of captive "white" tigers to breed an unlimited number of offspring to sell to zoos. Most are born with deformaties and left to live horrible lives, while only the "pretty" ones about sold to Zoos. I just can't support a practice like that. To read more about "white" tigers, click
here
and
here
.
Holy jeebus. Cannot handle the cute.
Got any random fun facts for me?