Unfortunately, day three concluded my birthweekend festivities. As much as I pleaded and bargained with Mike, I couldn't stretch my birthday into Monday. I had already gotten three days when most mere mortals only get one. Ah well, all good things must come to an end I suppose.
Early Sunday morning, Mike and I lazed around in bed with the dogs for a few hours and then went out for a nice "Birthday Finale" breakfast. I can't remember exactly what I had, but I do remember that french toast was involved. Sometimes I get in a random french toast mood and I cannot be silenced until I get it. This was one of those days.
After breakfast, we took a half-hour trek to the local horse stable to "get our cowpoke on". I'm honestly not even sure what that means, but I do know that I couldn't stop saying it. I figured that if it was the last day of my birthday, I better act like an annoying insufferable child while I can still get away with it. So I did.
When we got to the stable, they paired us up with our horses. Mike got a big brown, stocky horse named Petey and I got a medium sized spotted horse named Sugar with- get this- blue eyes! She was gorgeous. I didn't even know that horses with blue eyes existed. I'll say it again, I love my birthday.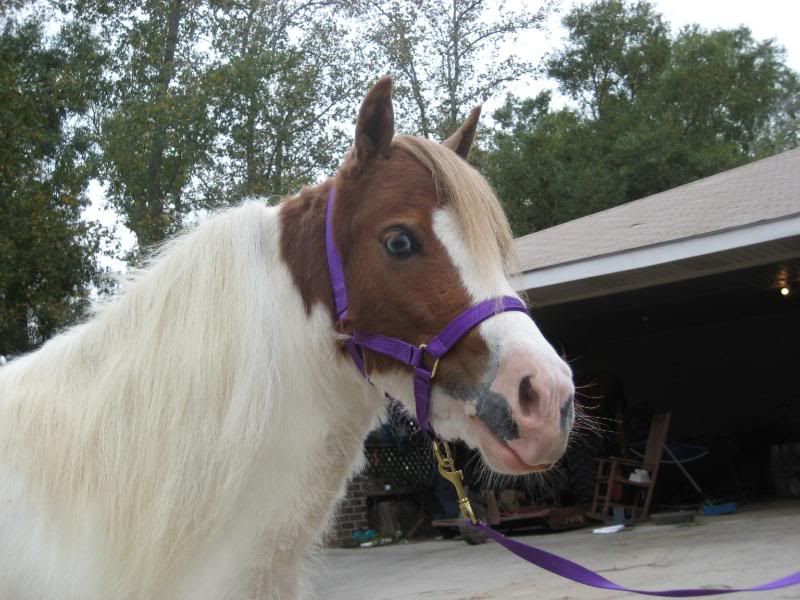 This horse looks almost exactly like her. See the blue eyes!?
As soon as they took Sugar out of the stable and I mounted her, the handlers made sure to tell me that once we turn around to come back, Sugar likes to go fast so just tug on the reigns to get her to slow down if she got too fast for my comfort level. This is when I started to get a wee bit nervous, as I've only on been a horse twice.
On the way there, Sugar did great. It was nice, calm walk with a few trots interspersed throughout- just exactly what I'm comfortable with. When I wanted to stop trotting, I tugged on the reigns and she slowed to a walk. Everything was
just
perfect. And then we turned the corner.
Holy shit. They were
not
playing around when they said that she likes to goes fast on the way back. As soon as we rounded that corner, Sugar bolted. I mean
bolted
! We went faster and faster until she was at a full blown gallop and I could feel the damn wind in my hair. And the funny thing is, she
would not
slow down. I tugged and tugged the reigns, but nothing. She just shook her head and kept going. At one point I seriously thought to myself, "If she keeps up this pace, I'm going to fall off. I can't make it all the way back at this speed." I yelled back a few times "I can't get her to stop!" But Sugar was going so fast that we had gotten so far ahead of Mike and the guide that I later found out that they didn't even hear me. It took every fiber of my being not to panic.
Now, less you think I'm a big coward, let me remind you that I've only been on a horse
twice
. When you're that inexperienced and your horse starts running unexpectedly with you on it's back and you literally
can't
make it stop, it's a very very scary feeling. Frankly, Sugar is lucky that she didn't end up with a puddle of pee on her back.
After a few minutes, she slowed down and I thanked my lucky freakin stars. When Mike and the guide finally caught up to me and we returned to the stables and unmounted our horses, Mike and I got into the car and headed back home.
On the way back, I was telling Mike about how fast Sugar was going and how nothing I did could get her to slow down. He was pretty surprised at how scared I was, as neither he nor the guide had any idea about what was going on. Apparently, after Sugar took off, the guide even commented to Mike about how she was impressed at how well I was doing at such a high speed! If only she knew what was going through my head!
Despite the scare, I'm pretty proud of myself for keeping it together (although I can barely lift my left arm from holding on so tight), and next time we go back, I'll definitely be requesting Sugar. It's those damn blue eyes!
Have you ever lost control of a horse (or other animal)? How did you react?